Polyurethane is a polymer material made from isocyanates and alcohols. Due to its unique characteristics, such as flexibility, lightness and resistance to water and wear, it has a very large market in various industries including interior design and decoration. In this article, we introduce polyurethane paint and its applications in interior design.
Polyurethane paint is commonly used as a coating on surfaces such as wood or MDF (Medium-density Fiberboard). This coating is used to create a beautiful protective shell on the surfaces and acts as a protective layer.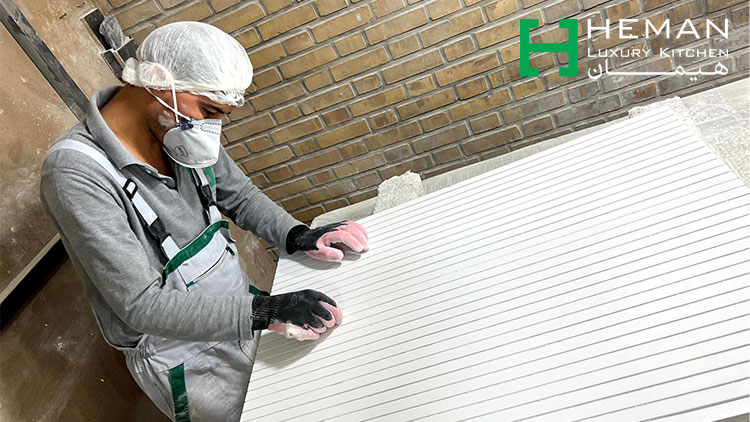 What is polyurethane color?
Polyurethane paint is produced as coatings in liquid or pasty form and is commonly used as coating paint on various surfaces. These coatings have been highly regarded for their characteristics, including high flexibility and resistance to water, heat and abrasion, as well as a variety of color gamut.

Applications of polyurethane paint in interior design
Background color of walls and ceilings
Polyurethane paint is used as a method of covering walls and ceilings in interior design. These colors, with a high variety of colors, allow interior designers to decorate rooms in different shapes and using a variety of colors.
Polyurethane paint is also used to cover furniture. These coatings give furniture a longer life and more resistant to stains and bumps. Also, furniture covered with polyurethane paint can have a variety of designs and colors.
In interior design, cabinets and tables play an important role. Polyurethane paint is used as a suitable coating for these objects. These coatings give them a beautiful, water-resistant appearance and scratches.
Polyurethane paint is commonly used to cover flooring in commercial and residential locations. These coatings have resistance to wear and impact and can be easily cleaned.
Coverage for outdoor spaces
Polyurethane paint can be used to cover structures and objects in open spaces and outdoor spaces. These coatings are resistant to different weather conditions and UV rays.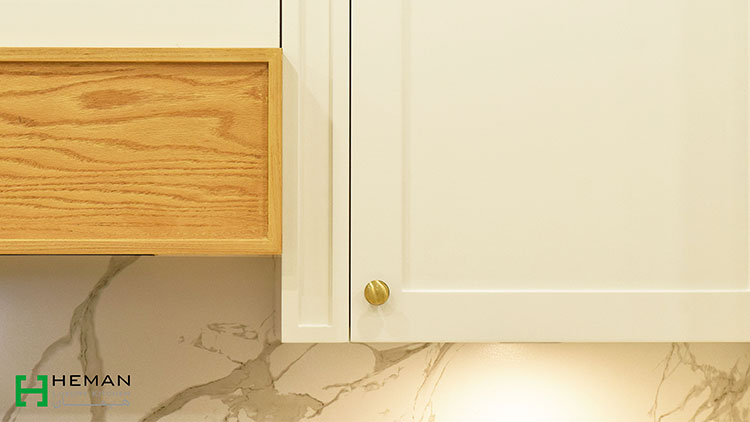 Comparison of Polyurethane and Polyester Dyes
Polyurethane paint and polyester color are two different types of coatings that are made up of different materials and characteristics. Let's look at the main differences between these two types of coverage :
Main Material
Polyurethane Color: Polyurethane is a type of polyurethane polymer produced from isocyanates and alcohols. This coating is known as a synthetic polymer.
Polyester paint: Polyester is also a type of polymer, but it is composed of esters and glycols as the main components. This coating is also considered a synthetic polymer.
Physical Features
Polyurethane paint: Polyurethane paint is a resistant coating material due to its high flexibility, water and abrasion resistance, and stability in different weather conditions.
Polyester paint: Polyester paint also has water and abrasion resistance but is usually less flexible than polyurethane. Also, in certain circumstances it may lose its characteristic.
Advantages and disadvantages of polyurethane paint in cabinets
Polyurethane color is one of the popular options for decorating and designing interior cabinets. This product gives an unparalleled appeal to cabinets and has its own features and applications compared to other materials. However, like many other ingredients, it has its pros and cons, which we will discuss below.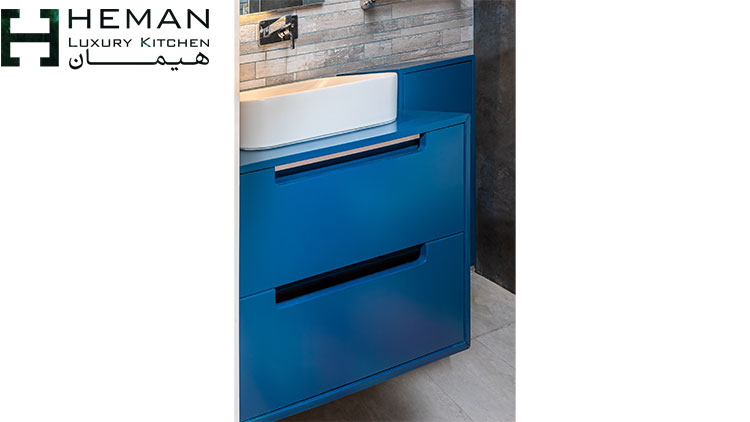 Advantages
Glossy and transparency: One of the prominent features of polyurethane color is its high gloss and transparency. This feature makes the cabinets covered in this color add to the interior design of the space beauty and life. Because before this, to have the most glossy coating, it was necessary to use polish on MDF.
Variety of colors: Polyurethane paint is available in a wide variety of colors. From light and matte colors to dark and shiny colors, this diverse selection gives designers access to a range of design options. It is enough to choose your desired percentage of matte or gloss and the desired code from its colors.
Scratch resistance: Polyurethane paint, due to its very soft and resistant coating, usually has good resistance to scratches and small impacts. This gives the cabinets a longer life.
The advantages of polyurethane in cabinet discussion can also be the removal of PVC tape for the working edges of doors in line with more elegance and beauty.
Disadvantages
High cost: Installing polyurethane coated cabinets usually costs a lot of money. This product is more expensive in terms of materials and manufacturing process than other materials.
Heat sensitivity: Polyurethane paint is sensitive to heat and is exposed to deformation and thermal damage. Therefore, suitable thermal insulation materials should be used for polyurethane cabinets.
Need careful care: To maintain the gloss and beauty of polyurethane cabinets, they require careful care and regular cleanliness. Rinsing should not be repeated and proper cleaning agents should be used.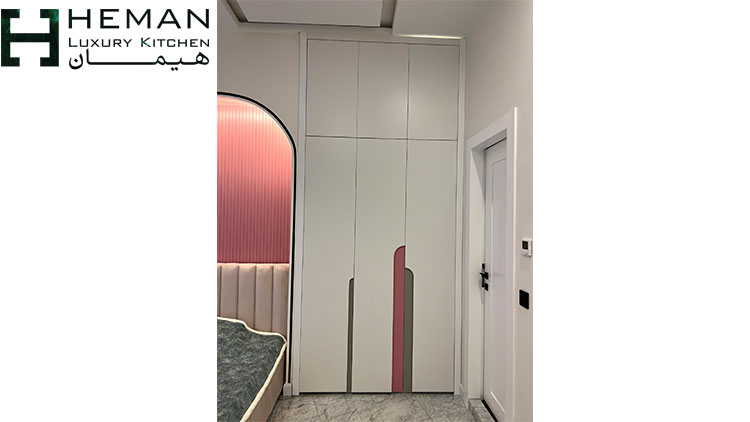 Compare with similar products
Polyurethane vs Polish
Compared to polishing, polyurethane has a higher gloss, and polyurethane coated cabinets seem to have more light absorption. But the most important difference is that it saves more time and money in the production process.
Polyurethane vs MDF with PVC Coating
In contrast to PVC-coated MDF cabinets, polyurethane cabinets appear to be thicker and have better scratch resistance. The wave footprint in shiny work is significantly less.
Color code
Polyurethane paints are usually supplied with their own codes. For more information about the different color codes and products, visit reputable manufacturers and stores. In different brands, we see different color calithes. It is important to have multiple colors from the same spectrum for each type of taste.
Polyurethane paint and waterproof property
Polyurethane paint generally has no properties that automatically and without the need for special waterproof coatings. This material alone has no special resistance to water and may be damaged when exposed to water.
Therefore, to use polyurethane-coated cabinets or surfaces in places that may come into contact with water (such as kitchens and bathrooms), you need additional waterproof coatings or protections. Usually, these coatings are applied as an additional waterproof protective layer on polyurethane to provide a more water-resistant surface.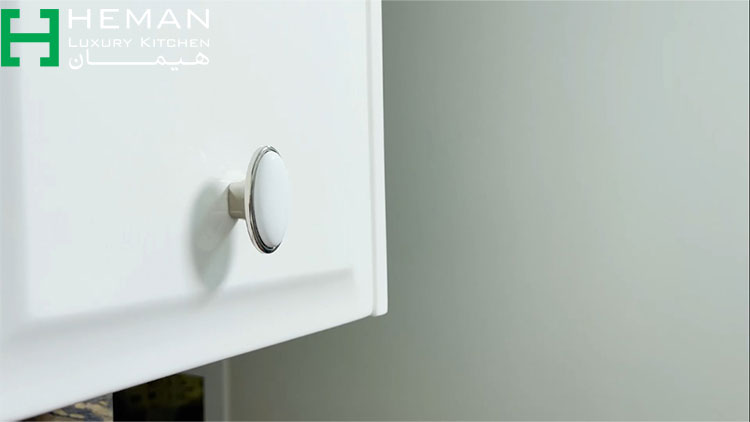 On the other hand, with careful and regular care and systematic use of polyurethane cabinets, you can prevent damage to the surface caused by contact with water.
Waterproofs applied on polyurethane or other materials are commonly known as waterproof coatings. These coatings usually work by creating an extra protective layer on the surfaces to prevent contact with water and other liquids. There are several types of waterproof coatings available, including:
Wax Coatings
These types of coatings usually contain special waxes and oils that are not absorbed into surfaces and are dispersed on surfaces as a waterproof layer. Waxes and oils do not penetrate wooden or polyurethane surfaces, preventing contact with water.
Silicone Coatings
These types of coatings contain silicone compounds that bind to wooden or polyurethane surfaces and create a waterproof layer. Silicones act as a water barrier.
Waterproof Polyurethane Coatings
Some polyurethane coatings themselves have a waterproof feature and do not require additional coatings. This type of polyurethane is produced with special technology to act as a water-resistant coating.
The technology of these coatings is usually based on certain chemical compounds that prevent water from permeating to the surface, or attached to the coating surfaces to make the surfaces waterproof. Each type of waterproofing coating may have different properties and characteristics and is chosen depending on the needs and environment of use.

Famous brands of polyurethane internationally
Given the different variables involved in choosing the best polyurethane paint brand, it's difficult to declare the best brand for all times. Choosing the best brand depends more on your needs and preferences as well as the facilities available in your area. However, some brands are well-known for the production of polyurethane paints and are usually considered as valid options. Some of these brands include:
Benjamin Moore
The brand is famous for producing quality colors and a wide range of color options.
Sherwin-Williams Sherwin-Williams
It is also one of the most popular brands in the field of paints and coatings both inside and outside and produces high quality polyurethane products.
Behr Behr
It is known as one of the most trusted brands in the domestic and foreign paint market and offers its polyurethane products as "Behr Premium".
Valspar
This brand is also known as one of the most popular brands in the field of paints and coatings interior and exterior and has high quality polyurethane products.
General Finishes
The brand is famous for producing polyurethane products for wood and furniture projects and produces high quality and excellent products.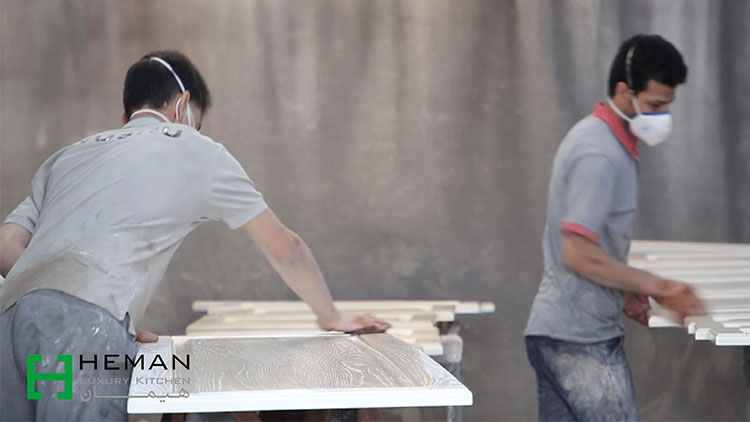 Vallejo
 Valersa is a famous brand in the field of acrylic paints and artistic coatings.It is a Spanish brand and is known as one of the most popular brands in the art and color industry around the world.
 The products include acrylic paints, oil paints, aircraft coatings and art models, etc.
ICA (IKA)
  ICA is a famous brand in the field of laboratory equipment and scientific equipment.
  This brand is German and ICA products include blenders, combination devices, centrifuges and various laboratory equipment.
  ICA is renowned for its quality and accuracy in laboratory equipment.
Gunze
Gench is a famous Japanese brand in the field of coating paints.
  The brand produces a variety of products including coating paints for modeling, automotive coating paints, and other coating paints.
Gench is known as one of the most prestigious brands in the field of coating and modeling in the world.
The Ganj Turkish brand is also a subsidiary of the Gunze brand. Gunze Sangyo is one of the world's most famous and reputable brands producing coating paints for modelling (miniatures and replicas).
This brand is especially famous for modeling acrylic paints. Gench Turk products include various coating paints, car paints, coating paints designed for aircraft models, tanks, automobiles and other modeling devices.
The brand is known as one of the most prestigious choices of modellers around the world because of its high quality, careful pursuit of small details, and the diffusion of diverse and precise colors.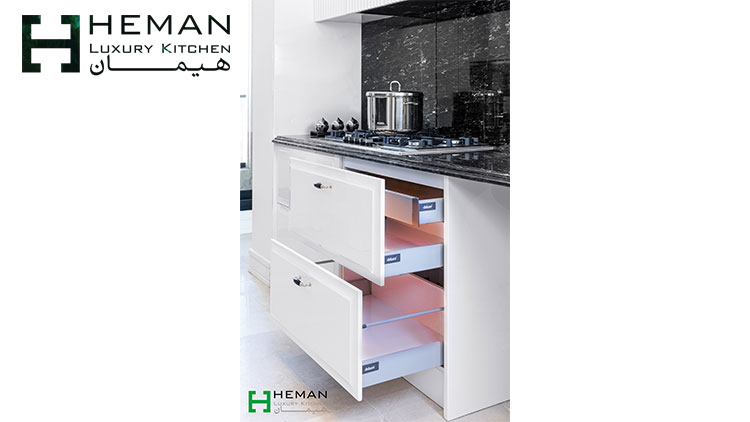 To choose the best polyurethane paint brand for your needs, you can consult with experts at local building products stores or polyurethane product manufacturers to choose a quality product suitable for your project.
To choose the best brand and product, you can follow the following steps:
Research
Studying and researching different brands and products in the market can help you find a brand that fits your needs and budget more. Reviews and feedback from other customers can also be helpful.
Consult with Specialists
If you have a specific project or need expert guidance, consult with experts in the field of interior design. They may brand you and recommend a product that best suits your project's needs.
Testing products
In some cases, you may want to test samples of products to make them more aware of their quality and performance. This can help you choose the most suitable product. In the video below, you can see the experiment done by Heman Group in order to prove the effect of waterproof layer on the paint.
Compare price
Cost is an important factor in choosing a brand and product. The prices of different products may vary.Painting with polyurethane paint is usually divided into the following steps

Surface preparation
First, the surface on which polyurethane paint is to be applied must be prepared. This includes washing, restoration (if necessary), and surface syndication. The surface should be clean and smooth.
Primer
Before applying polyurethane paint, usually a primer layer is applied on the surface. The primer works as a base layer, helping to better attach color to the surface and provide better stability.
Applying polyurethane paint
After primer and surface preparation, polyurethane paint is applied on the surface. This stage may require several layers. The layers must be well drained before applying the next layers.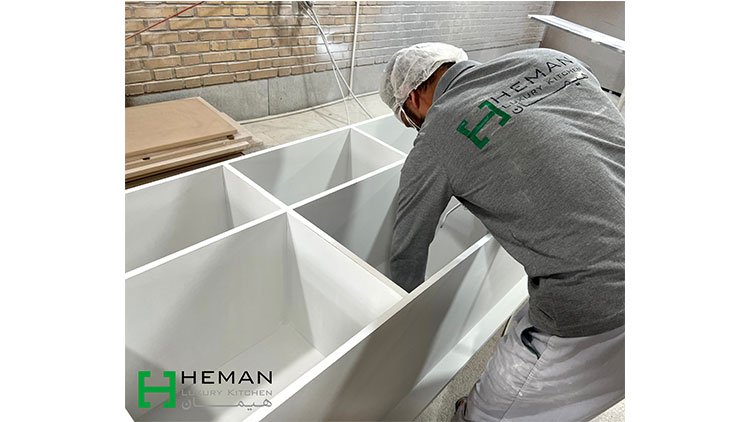 The number of hands or layers required to paint MDF cabinets can depend on several factors. These factors include:
The type of color you use for MDF cabinets can determine the number of layers you need. Some colors require more layers to achieve better results، while others require fewer layers.
Pre-preparing the surface of the cabinets also plays an important role in the number of layers. If the MDF surface is well cleaned and coated، a smaller number of layers may be required. But if the surface needs repairs, syndizations, or other repairs, more layers may be needed.
In some cases, changing the color of MDF cabinets from dark to light (or vice versa) requires more layers to hide the previous color completely.
Do you use acrylic paint, oil paint, or other colors? Each type of painting may require a different number of layers.
Manufacturer's recommendations
Always pay attention to the manufacturer's recommendations and instructions for the color you choose. The manufacturer's recommendations may be based on their specific color specifications.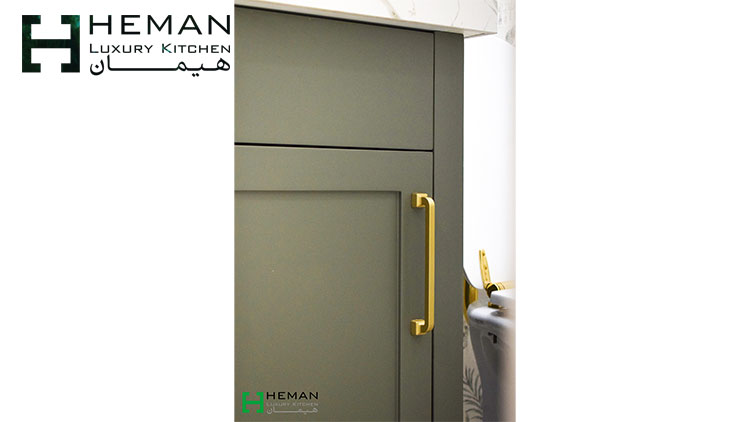 In general, two or three layers of paint are usually enough to paint MDF cabinets. However, to improve coverage and accuracy, you may want to apply an extra layer. Also, more important than the number of layers, how surface preparation and the quality of the work is done. Therefore, it is best to determine the number of layers according to the specific situation of your project and its needs.

Hydrophobic (optional)
In some cases, after applying polyurethane paint, a hydrophobic layer is applied to protect the surface against the penetration of water and other liquids.
Drying
After applying all the required layers, the surface should dry well. The drying time usually depends on the number and thickness of layers and environmental conditions.
Final Syndication (optional)
If needed, after the final drying of polyurethane paint, the final syndication may be applied to polish the final surface.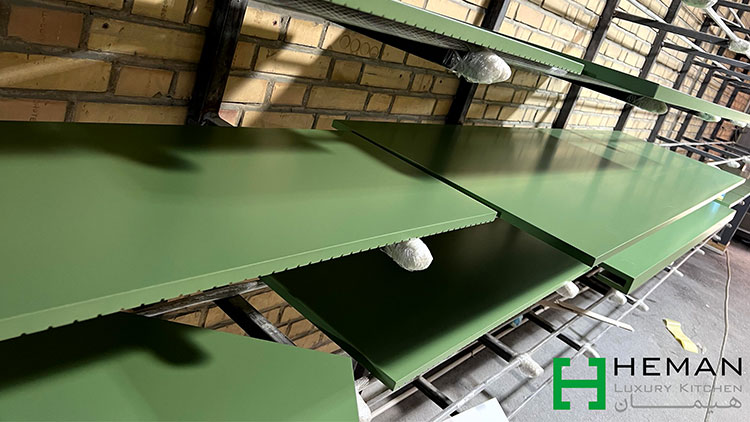 Keep in mind that the different stages of staining may vary depending on the type of surface (such as wood, metal, or polyurethane) and the needs of the project. It is also important to carefully follow the instructions and recommendations of the polyurethane paint manufacturer to achieve better results.
Finally, polyurethane paint is an attractive choice for cabinet design and other items, but it requires careful care and comes at a high cost. To make the right choice, it depends on your needs and tastes, and it may be best to consult an interior design expert to make a smart choice.