Cabinet accessories are generally referred to as products and parts that are used to improve the use of the spaces in design.
Kitchen cabinet accessories and wall closets play an important role in enhancing the aesthetics, organization and efficiency of these spaces.
These cabinet accessories are made up of different types, each with special tasks such as organising food, dishes, tools and various appliances
In terms of design, cabinet accessories are often considered as beautiful elements in interior decoration. It should be noted that some cabinet accessories act merely as decorative and inspirational elements inside the kitchen or other spaces.
In terms of usage, cabinet and cupboard accessories help users keep materials and items organized and organized.
The best example for this discussion is the suitable separator for spoons and forks, oil bottle holding mechanisms, etc.
Cabinets are made of various types of raw materials such as wood, metal, glass and plastic. Choosing the right materials is very decisive considering the intended use of the product and its overall design idea.
The material of cabinet and cabinet accessories can have a great impact on their quality and durability.
In choosing the materials of cabinet accessories, factors such as moisture resistance, beauty, cleanability and long-term use should be considered.
Below are some of the common materials used in cabinet and cabinet accessories:
Metal
Metals, such as steel and aluminum, are used as popular materials in cabinet accessories. They are resistant to moisture and rust and have a long shelf life.
Plastics
Strong, resilient plastics such as polypropylene are used in cabinet and cabinet accessories. They have the ability to clean which is a reason to use it in the cabinet's accessories surfaces, as well as the ability to paint and design.
Wood
 Wood is a warm and natural material that is used in cabinets and cabinets with various designs. Wood can help with coloring or glazing to make the cabinet accessory more beautiful in terms of appearance.
Glass
Glass is used as a beautiful and transparent component in cabinet and cabinet accessories. Glass is usually used for doors or maintainers in different spaces.
Ceramics or Pescramics
For work surfaces, cabinet accessories shelves and … Ceramics or pecramics can be used. These materials are resistant to heat and hard impacts.
Each of these genres has its advantages and weaknesses. Choosing the right material should be done according to your environment, needs and taste.
It is also possible to see different combinations of these genus in a cabinet accessory. Before you buy, it is best to consult with the seller or professional advisors in this area to choose the best option.
Cabinet and cabinet accessories have their own advantages and weaknesses. Below are some of the advantages and disadvantages of these cabinet accessories:
Advantages:
Better Organized
Cabinets and wardrobe accessories help you organize the interior properly and put different objects neatly inside them.
Optimal use of space
With the right cabinet accessories, you can take full advantage of even the smallest space and also use the corner spaces well.
Efficiency and Speed of Access
The right cabinet accessories can make accessing objects faster and easier because objects are available in a regular and sorted way.
Beauty and decor
Cabinet and wardrobe accessories can help beautify and inspire interior decoration.
Weaknesses:
1.Cost: Some cabinet accessories have a high cost and may impose a cost increase on the entire project.
2.Need for the right location: Some cabinet accessories require a specific and appropriate space. If the cabinet space is low, some cabinet accessories may be difficult to implement.
3.Maintenance and Maintenance: Cabinets accessories need more special care and maintenance than empty space than maintenance of weight bearing capacity, cleanliness and so on.
4.Complexity in installation: Some cabinet accessories require careful installation and adjustment and may require technical expertise.
With all of the above in mind, you can use these cabinet accessories according to your needs and tastes to transform your kitchen and wall closets into a beautiful, organized and efficient space.
Due to the breadth of the product in this section, and the plurality of models and brands and even in some cases the construction is done as customized, so we will only mention some of the most high-ranking people that are trending these days. In general, choosing the right cabinet accessories should be done according to your needs, environment and taste.  If you are accompanied by expert advice in the field of interior decoration, you can make better choices.
Corner Cabinets Accessories:
You are definitely faced with corner spaces that deprive a large part of usable space due to its hard accessibility from the capacity of our cabinets. Magic Corner Cabinets are clearly the most widely used and their embedding into designs is more about using a lost space than due to aesthetic discussion.
Magic Corner is a type of kitchen cabinet accessories designed to make optimum use of the cabinet corner space. Cabinet corners, due to their geometric shape, are usually a hard-to-reach space. Magic Corner cabinet accessories with its special design and mechanisms make this usually unusable space an accessible and usable space.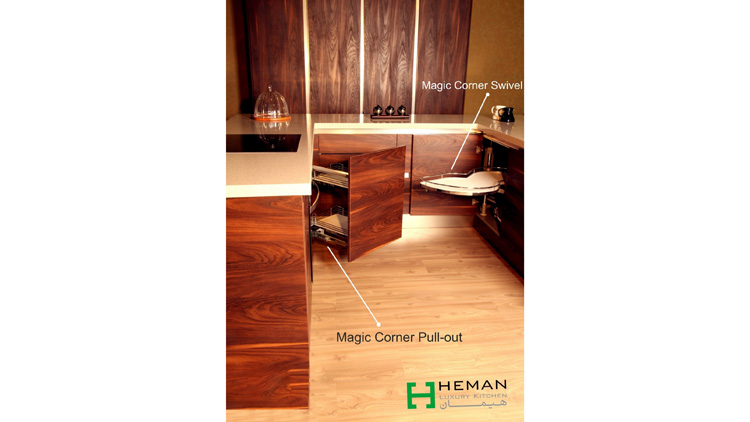 Magic Corner mainly has two types:
Magic Corner Pull-Out: This type of cabinet accessory is designed as a complete pop-up system. This means that when you open the cabinet, this cabinet accessory will come out completely with the door from the inside of the cabinet. It is as if the space is full of space for you, so you can see and access objects inside that space. And when you close the cabinet, this cabinet accessory with all the accessories inside it automatically returns to that corner of the cabinet.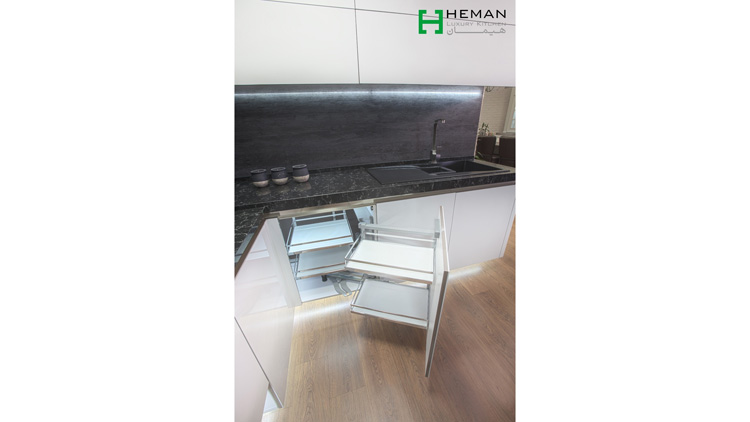 Magic Corner Swivel: In this type of accessory, cabinets, shelves, or baskets in the cabinet are designed to rotate. By opening the cabinet, by rotating this, separately, objects in the corner are moved to an accessible surface, so that each basket (floor) can be directed out individually by guiding the user's hand.
The use of Magic Corner Cabinets accessory helps with elegant design, better organization and more complete utilization of corner cabinets. These cabinet accessories serve as an effective kitchen design solution to better exploit the capacity of corner cabinets.
Ground Cabinets Accessories:
Accessory cabinets for ground cabinets are available in different models and sizes with a great variety of variations. From spice cabinet accessories to single and non-individual rail baskets, refrigerated baskets and … This gives you easier access to anything that is stored inside your lower cabinets.
Among the most famous are terrestrial tandem supers. These cabinet accessories are made according to the type of use in different standard and fixed dimensions for the inside of cabinets. They can usually be provided from 15 cm wide to 60 centimeters.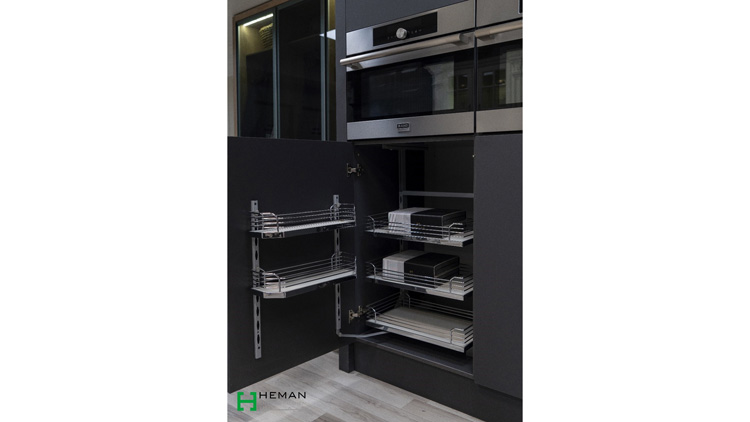 These cabinet accessories are designed to store various objects such as cooking utensils, salt and pepper, jars of oil and grains, etc.
It can also be used for a variety of accessories of trash can cabinets with a variety in the number and size of its pelvis, super-detergents, various separators and … According to the user's requirements in the design of the cabinets considered.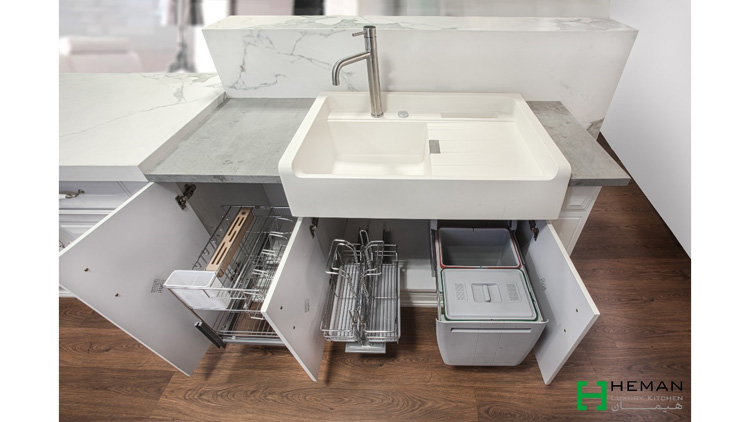 Trash cabinet accessories designed for easy access and better management of dry and wet waste in cabinets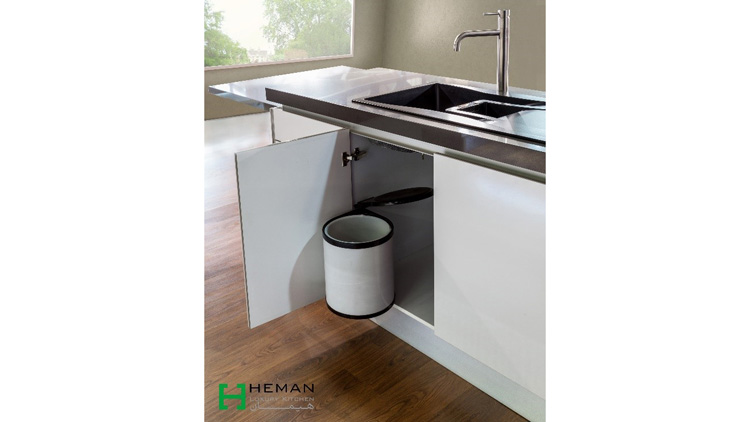 Pivot Single Bowl Trash
Cabinet accessories for tall cabinets
A favorite part of the kitchen is full-length cupboards, or pantry cabinets, which offer a large space, and many consider it as the perfect supermarket for food and cooking appliances.
Like super-Earth, in comedy supers we can have all kinds of materials and models, which we have put below a number of widely used models along with photos.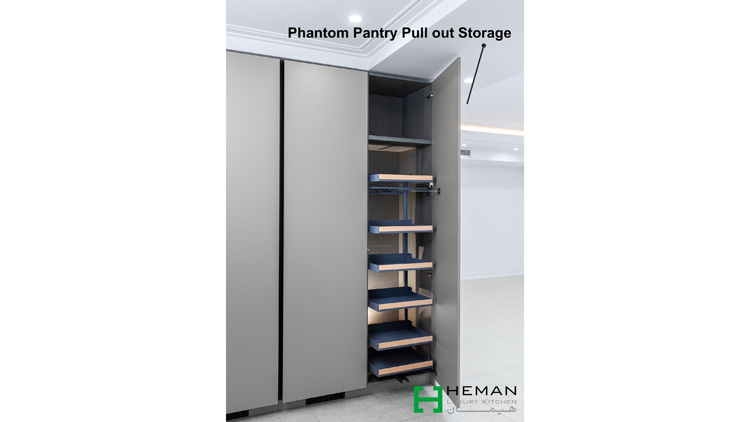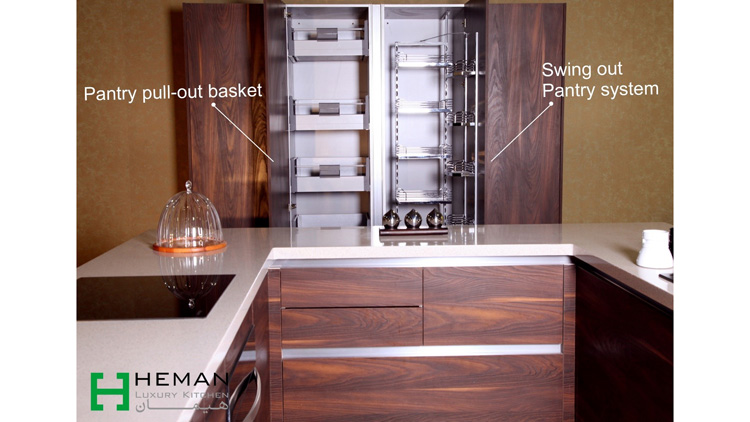 Hidden Drawers and Partitions:
Anything that isn't necessary in the kitchen cabinets, a partitioned drawer for spoons and forks and cooking essentials is essential because it helps us organize the space and use more easily.
These partitions are made with Gunan materials such as polystyrene, steel and wood, and in many cases are custom-made due to the exact size of drawers and interiors.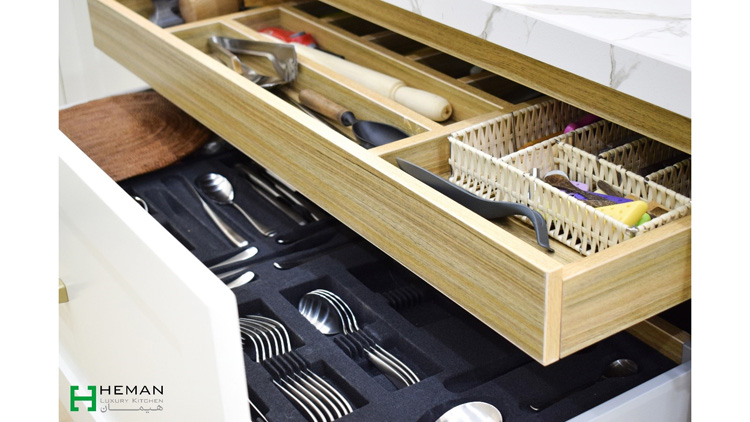 Built-in Socket:
Built-in cabinet outlet or hidden socket is one of the newest interior decoration equipment, which with the advancement of technology in modern day decoration has made a lot of room between office space, desk and study and especially kitchens.
One of the reasons why these cabinet accessories are used in almost all kitchens these days is to prevent the hole in the countertops, which are also called inter-cabinets instead of tiles to the air units.
Of course you will not like the beautiful stone and ceramic plates installed on the walls to be pierced to be plugged! After a wide variety of models of these accessories, cabinets should be used according to your needs.
In different models, power outlets, telephone cables, HDMI, network cable and mobile chargers that in newer models, are in the form of Wireless. Jets in European brands can have built-in socket cabinet accessories with the ability to play audio in its speaker.
These outlets are often available in silver and black colors. Among its models are rounded elevator outlets, recessed outlets with mechanical book opening, rotary and in newer models which are electric openings.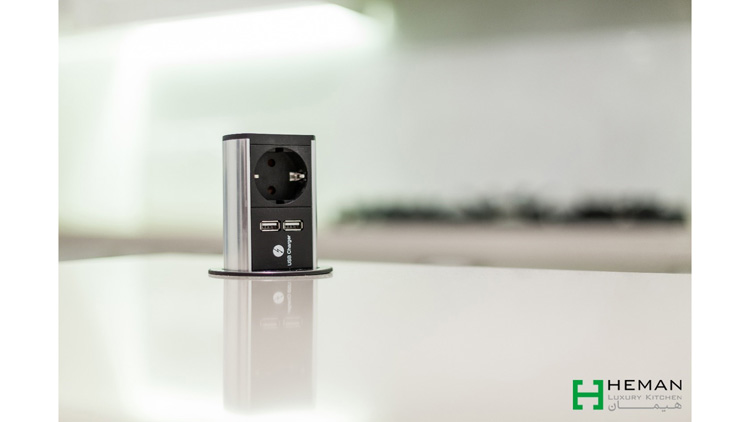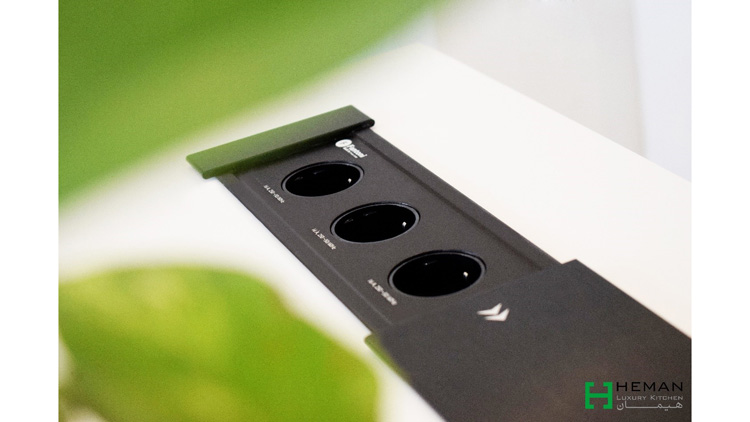 Walk in the Closet and Walk:
Organize your wardrobe with your unique variety, cabinet accessories.
We have products to store and organize the wall closet for your bulky winter coats and work clothes, as well as your favorite sports T-shirts. Also a variety of separator for objects inside the closet or the rails of the pants, scarves, etc.
These cabinet accessories are perfect for the claust spaces, because when you step into your dressing room, you can easily access your items.
Also, the appearance of the space is completely influenced by these cabinet accessories from a crowded and chaotic space to a luxurious, orderly and enjoyable space for users.
These cabinets are highly recommended for doorless closets.
In general, cabinet and wardrobe accessories are different types of products that are designed to perform specific functions in the interior of cabinets and closets.
These cabinet accessories can be installed individually or as a different system in devices and cabinets.
Note that the advantages and disadvantages of any cabinet accessories depend on your design, quality, needs and preferences.